Anthony Island
3 Results for Anthony Island
File consists of photographs taken during a 1957 trip to Anthony Island, part of Haida Gwaii, to survey and/or acquire and preserve totem poles from the island. This expedition was undertaken as part of the B.C. Totem Pole Preservation Committee. ...
Harry Bertram Hawthorn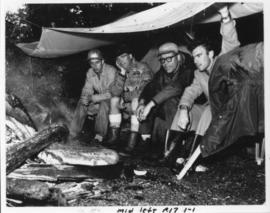 1-5-2 (27.2)-a035183-1
Item
1957
Image of Wilson Duff, Harry Hawthorn, Bill Reid and John Smyly under a shelter on Skunnggwaii llanas (Anthony Island). The image was taken during the Ninstints expedition to retrieve 11 totem poles from the area.