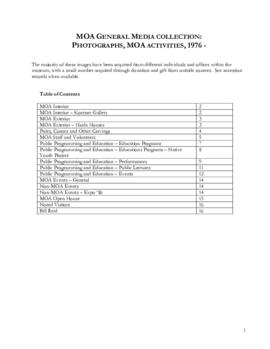 MOA Activities, 1976 and later
Subseries includes photographic material collected to document the organizational memory of MOA. Photographs primarily depict the events and functions that have occurred in the museum, as well as events and functions that took place outside the museum that involved MOA or MOA staff members. The subseries also contains candid shots of MOA staff members, photographs of different parts of the museum, and photographs related to MOA that have made their way into the MOA archives.
See attached document for photograph list.