Showing 3 results
Archival description
File consists of photographs taken during a 1957 trip to Anthony Island, part of Haida Gwaii, to survey and/or acquire and preserve totem poles from the island. This expedition was undertaken as part of the B.C. Totem Pole Preservation Committee. This committee was set up in 1953 by members of MOA, UBC's Department of Anthropology, and the BC Provincial Museum, with support from the lumber and fishing industries. Their aim was to survey existing poles of the province, and to acquire and preserve all those not in use. H.R. MacMillan and W.C. Koerner supported the purchase and transportation of the poles which were brought to Vancouver and Victoria from coastal villages.
Members of the 1957 expedition included Wilson Duff, Michael Kew, Harry Hawthorn, John Smyly, and Bill Reid.
Harry Bertram Hawthorn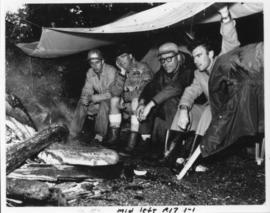 1-5-2 (27.2)-a035183-1
Item
1957
Image of Wilson Duff, Harry Hawthorn, Bill Reid and John Smyly under a shelter on Skunnggwaii llanas (Anthony Island). The image was taken during the Ninstints expedition to retrieve 11 totem poles from the area.