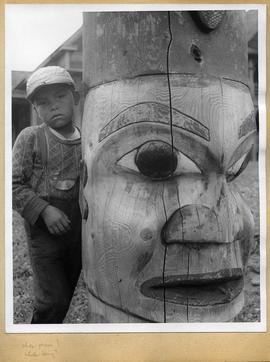 Child and totem pole, view two
Image depicts a child leaning against the base of a totem pole. The pole shows a human figure with an open mouth. See also item a034827 for another view of this pole.
According to George Read, Stanley Read's son, the pole in the image is the Half Way Out pole of Delgamuukw's house; the boy is Harry Brown, whose Gitxsan name is Xsuwii 'Guus.