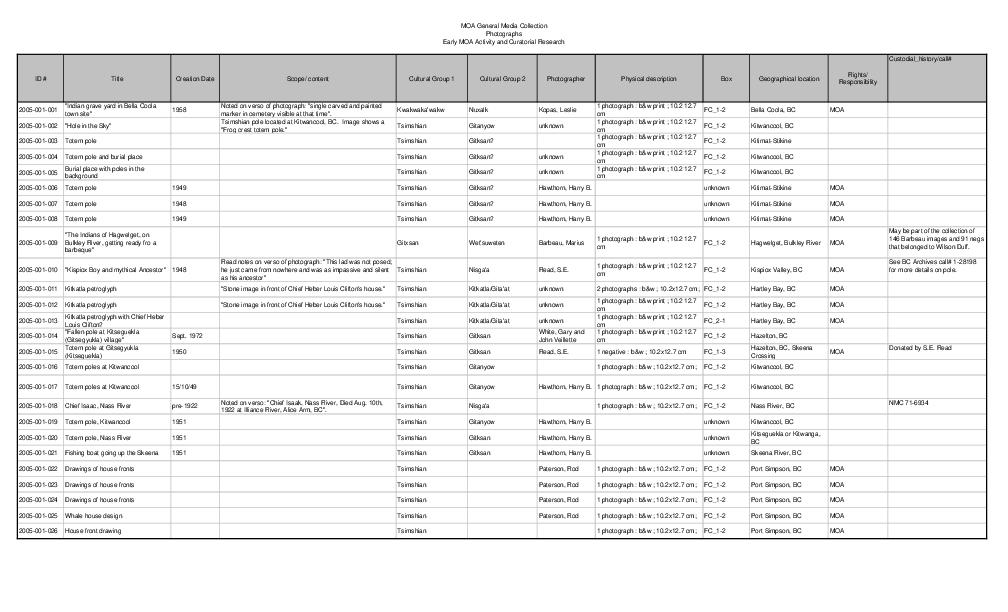 Zona do título e menção de responsabilidade
Título próprio
Early MOA activities and curatorial research
Designação geral do material
Outra informação do título
Título e menções de responsabilidade
Notas ao título
Source of title proper: Title based on contents of subseries
Zona de edição
Menção de responsabilidade da edição
Zona de detalhes específicos de materiais
Menção da escala (cartográfica)
Menção da projecção (cartográfica)
Menção das coordenadas (cartográfico)
Menção da escala (arquitectura)
Autoridade emissora e denominação (filatélica)
Zona de descrição física
Descrição física
ca. 2000 photographs : prints and negatives
Zona dos editores das publicações
Título próprio do recurso continuado
Títulos paralelos das publicações do editor
Outra informação do título das publicações do editor
Menção de responsabilidade relativa ao editor do recurso contínuo
Numeração das publicações do editor
Nota sobre as publicações do editor
Zona da descrição do arquivo
História custodial
Under the direction of Deirdre Norman, Photographic Archivist, and curator Audrey Hawthorn, a collection of photographs for curatorial research purposes was created – the collection included original prints and negatives as well as copies, and identification prints were created to accompany the identification data for each image. The photographs were collected from various sources, including Museum curatorial staff and anthropologists from UBC and elsewhere. It appears that in some cases the originals were donated, while in other cases copies were made for the Archives and the originals returned.
After the retirement of Audrey Hawthorn in 1976, the collection was not added to and some of the original arrangement order was lost. A project was undertaken in 1995 to reappraise the photographs, update the identification data, perform any necessary preservation work, and rearrange the photographs to facilitate better access. Photographs that MOA did not hold copyright for were removed and placed in the care of Bill McLennan. In addition, the photographs were physically rearranged so that prints, original negatives and copy negatives are all in separate drawers.
In 2005 the segregated images were accessioned back into the archives and were all given the accession number 2005-002.
Âmbito e conteúdo
Subseries consists mainly of photographs collected by MOA for curatorial research, as well as some photographs documenting MOA activities and/or people. Photographs in this subseries were collected in 1976 or earlier. Subject matter of the photographs includes Northwest Coast material culture, people, and geography; MOA history; MOA events; UBC Totem Park; and, a smaller number of non-Northwest Coast cultures.
See attached pdf document for photograph list.
Zona das notas
Fonte imediata de aquisição
Disponibilidade de outros formatos
Restrições de acesso
Access to some photographs is restricted due to presence of culturally sensitive subject matter. Consult archivist for details.
Termos que regulam o uso, reprodução e publicação
Instrumentos de descrição
See attached spreadsheet for photograph list.
Ingressos adicionais
No further accruals are expected.
Identificador(es) alternativo(s)
Accession number
2005-001 and 2005-002
Zona do número normalizado
Pontos de acesso
Pontos de acesso - Assuntos
Pontos de acesso - Locais
Pontos de acesso de género
Zona do controlo
Descrição do identificador do registo
Identificador da instituição
Datas de criação, revisão ou eliminação
objeto digital (Master) zona de direitos
objeto digital (Referência) zona de direitos
objeto digital (Thumbnail) zona de direitos