Showing 3 results
Archival description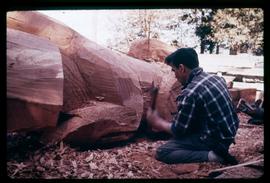 Image of Doug Cranmer carving two totem poles at the University of British Columbia.
Fonds consists of eight slides of totem poles being raised in the Haida Village at the University of British Columbia (UBC). The slides are dated May, 1962. The photographs were taken by George Szanto, the son-in-law of Geoffrey Andrew who was the Dean and Deputy President of UBC from 1947 to 1962.
The totem poles represented in the images were carved by Haida artist Bill Reid and 'Namgis artist Doug Cranmer. They were originally situated at UBC's Totem Park. They are now located on the grounds behind the Museum of Anthropology, and modelled on a 19th century Haida village.
George Szanto